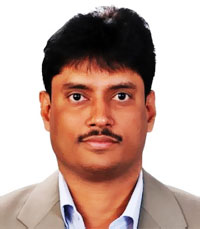 Smart parking solutions can help parking lot owners increase business revenues in many ways. Commuters can also avoid the tiring tales of finding a parking spot.
Paromik Chakraborty of Electronics For You speaks with Udaya Bhaskar Rao Abburu, chief executive officer and managing director, iRAM Technologies, to understand the benefits and limitations of the smart parking technology.
How can smart parking solutions benefit users and parking lot owners, simultaneously?
A. Main constituents of a smart parking solutions are wireless sensors, gateways, repeaters and the cloud. Sensors are installed on the road or parking area. These communicate with gateways to transmit data, which gets stored in the cloud. Software and mobile apps are provided to parking owners as well as commuters, who can go online to check the availability of parking spaces beforehand, pre-book parking spaces and generate bills on their own through the app.
Payment methods include cash, smart/transport cards, credit cards, e-wallets, etc. For multi-level parking, users can keep track of their vehicle and even extend booked parking hours. Such platforms can also predict whether they will get a parking spot when they reach the venue. Parking owners can use apps for point of sale (POS) to keep track of parking fee collections and transactions.
They can track revenue generation and transactions in real time. This enables them to create dynamic parking strategies, including increasing parking capacity during holidays and peak hours, customising parking fees in terms of area, time and services, checking transactions and more.
Q. What are the underlying components and technologies used?
A. The system uses magnetic sensors to detect a vehicle occupying a parking spot. It senses the magnetic field variation when a car comes in. A wireless transceiver communicates with the gateways installed on the nearest poles. The gateway can connect to the uplink through Wi-Fi or GSM. Intelligence lying in the cloud and the gateway records patterns for a few days, learns through analysis of data and creates its own algorithm to ignore non-vehicle presence and avoid false alerts. Sensors can sustain for 10 years without recharging. Equipment also follow IP68 standard.
Q. Any reason you have not included LPWAN network options like LoRa?
A. LoRa has a good reach range but is not yet well-developed for actual real-time applications, like smart parking, where a sensor can keep sensing every five seconds. It is good for applications like smart metering, where reading may be required at an interval of half a day, or a full day.
Q. Any case study to showcase the benefits of this technology?
A. Recently, there was a sports event in Bhubaneswar where we installed the smart parking solution for the stadium. The deal involved the stadium administrative paying a certain upfront capital to a parking contractor, with the provision that the smart parking platform will provide real-time updates to the administration on the revenue being collected.
The system allowed the administration to get updates on revenue generation on an hourly basis, and helped them receive the accurate share of the revenue portion at the end of the deal from the contractor in a fully-informed manner.
Moreover, the parking guidance system showed parking controllers as well as passengers suitable parking spots during rush hours, helping them avoid unnecessary congestion and hassle. We noticed a much higher revenue increase in the process – almost four times than expected!
Q. What is the ROI for such solutions?
A. In a capex model, the ROI can come within three to five years, depending on the scale of use. Right now, we are doing a deployment in Nasik, in an opex model, through a public-private partnership. The ROI is estimated within five years, after which they will start earning revenue because of the system. The platform can also be used for advertisements, allowing parking owners to generate additional revenue.
Q. What are the major challenges faced during such deployments?
A. Implementation and coordination with multiple departments is often challenging. Hardware and software have to be synced with various departments of the city, namely, parking owners for revenue collection, traffic police for rule compliance and violations, local corporations for regulations and so on. Approval processes lead to a lot of time loss during implementation. Existing parking operations are often compromised with corrupt personnel in charge, which can become a source of resistance to such solutions.
Slower adaptability to technology was an issue, too. However, Indian users are smart. Give the right interface and they learn how to use it in no time.
Q. Are there strong business opportunities for smart parking solution providers in India?
A. Until recently, at a city scale, offers were mostly tender-based. In this scenario, the administration appoints a solution provider to deploy the platform, asks him or her to maintain the project for a year and then operates the system by itself. This is a limited-period contract.
Now, private firms and MNCs are starting to invest in these solutions. They are creating partnership models to assign smart parking solution providers to operate the parking, collect revenues and maintain the whole process post-deployment. Strategising and supervision are done by the enterprise. This creates good, long-term business opportunities for players in this domain.
Q. How important is standardisation?
A. Very important! There should be standards for each element that goes into smart city systems. It should be like the telecom landscape, where there is interoperability.
One should be able to work with multiple technologies with multiple equipment. There should be seamless communication with minimum effort.
Q. Are there any standards in place?
A. There are some standards defined. For instance, IEEE 802.15.4 is applicable for multiple low-power wireless equipment used in the Internet of Things (IoT). However, if equipment producers want their products to sync with third-party equipment, too, they need to have an Internet Protocol (IP) interface with proper API calls that can transmit information seamlessly.