Smart Environmental Sensors
Environment Monitoring System
Our Environment Monitoring System is designed to address the growing need of air quality monitoring across India. The portable IoT-based solution measures gases like CO, CO2, NO2, O3, SO2 along with Particle Matter, UV and Noise levels. Apart from the pollutants, it also measures various weather parameters like temperature, humidity, ambient light and rainfall. This portable solution can be fully integrated into the smart pole. The live information captured can be stored and analyzed on continual basis by the authorities to create better policies for the environment.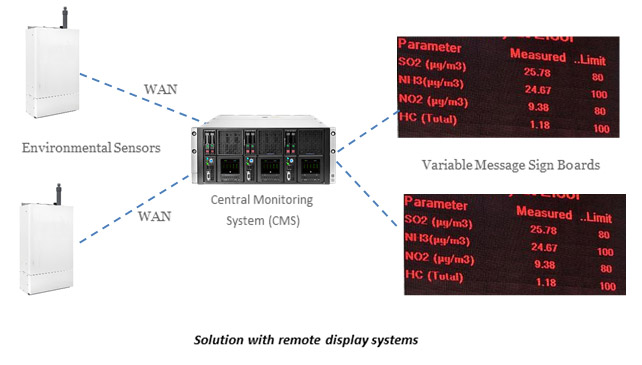 The existing legacy solutions require large infrastructure to measure all required air quality and weather parameters, making it difficult to deploy on road side where space is a premium.
Smart Environmental Sensors
Key Benefits
Multiple benefits of our Environment Monitoring System:
Modern Sensor Technology

Latest & reliable electro-chemical sensors with high resolution and sensitivity and  99% accuracy
Sensors can be calibrated remotely

Smart Monitoring Stations

Ease of commissioning

Portable device, can be mounted on a street pole
System automatically connects to cloud server on power-on
Automatically obtains configuration information

Smart & Robust

Independent operation even in the event of communication loss with central server
Local Storage: Stores all the configuration and data locally and pushes the data to the central server only when required
Local Intelligence: AQI is calculated locally and displays the configured parameters on the local Variable Display Systems at the required intervals
Secure data transmission with AES256 encryption
Up to 24hrs of built-in battery backup

Ease of Maintenance

Self-diagnosis and remote upgradation
Alerts and Notifications
Remotely monitored and debugged

Modern Architecture (based on IoT and Cloud architecture)

Supports SOAP/Restful/MQTT interfaces
Mobile app for viewing the data and real-time visualization and analytics
Central Monitoring System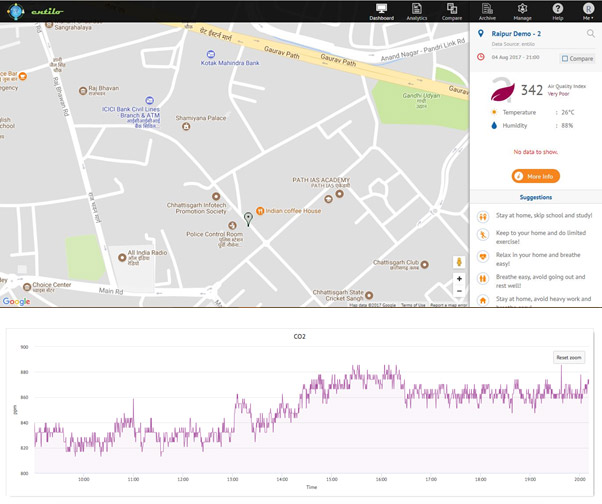 The Central Monitoring System collects sensor data from multiple Environment Monitoring Stations (EMS) and displays it on real-time to multiple remote Variable Message Sign Boards (VMS). The data from a single EMS can be displayed to one or more VMSs. The sensor data can be backed up and stored forever so that all the logged historical data can be accessed and analyzed. It calculates and displays IND-AQI, as described by CPCD, and generates multiple graphs to show the trends. It can be configured to send alerts and notifications to the registered users whenever any measured parameter crosses the threshold.
The CMS runs on an industry grade server or VM and provides web client interface. It provides role-based user access with differing privileges like admin, operator, user etc. It also supports open interfaces like SOAP/Restful/MQTT so that other applications can get the necessary data from it. The data is provided in open standards like JSON/XML/CSV etc. The data can be saved onto a USB device or on a DVD. The environment data can be displayed in the City Mobile Application.